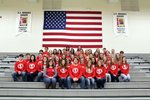 The Business Technology Department at Franklin County High School encompasses the Business Management and Administration Career Cluster and the Finance Career Cluster; with a focus in the Office Management and the Accounting programs of study. These programs of study are coupled with the Future Business Leaders of America Youth organization. The courses currently being taught include:
Accounting I
Accounting II
Business Communications
Business Management
Computer Applications
Advance Computer Applications
Introduction to Business and Marketing
Course content and FBLA promote the idea that every individual should be interested in and take responsibility for promoting better social, political, community, and family life. The word future reminds us that the future of the world depends upon the quality of leadership we are able to produce. In the Business Technology department and through FBLA students become aware of the importance of becoming future leaders. We strive to have students learn to recognize situations in which their individual talents will be useful. The world of business is our world. To be successful in business, a person must be educated both formally and
informally in business methods and procedures and in the basic principles of our economic system and government.
Students from Franklin County High School have received state honors in the following subjects which qualified then for Nationals:
Accounting
Business Communications
Business Law
Electronic Career Portfolio
Hospitality Management
Who's Who in Middle Tennessee FBLA
Word Processing
Web Design
The future of America depends upon this generation. We should pledge ourselves to use any abilities endowed to us to make America a better place for everyone.