Senior Superlative Voting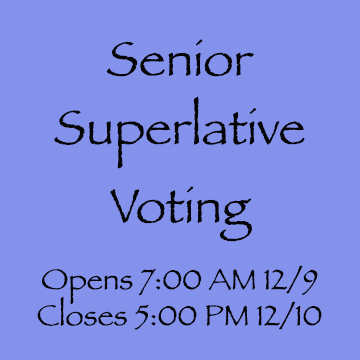 ---
FCHS Seniors of 2021 – Senior Superlative Information
As in previous years, the Senior Class of 2021 will be using the online voting system, YearbookVote.com, to select senior superlatives, as well as to submit some other senior information that will be included in the yearbook.
To vote, you will log into www.YearbookVote.com with your first initial and last name as your username; your student ID number (numbers only) will be your password. You will also be required to enter the SCHOOL ID given below. Although the system will allow you to change your vote, only your FINAL submission will be counted. Do NOT share your password with another student. If another student uses your username and password to vote for superlatives after you have voted, it will change your vote and that will count as your submission.
School ID: 37398 (Winchester's Zip Code)
Username: first initial, last name (John Doe would be JDoe)
Password: your student ID # (just the number part including the zeroes, as in 0001234)
You may log in and save your submission multiple times. You do not need to complete your voting or submissions for all categories before clicking on "save changes." Your submission becomes final once voting is closed.
*Important Note: EVERY senior is eligible to be a superlative. Please refrain from persuading classmates to vote for a certain person. Your vote should reflect YOUR personal choices.
The YearbookVote.com voting site will open on Wednesday, Dec. 9, 2020, at 7:00 A.M. (CST) and will close on Thursday, Dec. 10, 2020, at 5:00 P.M. (CST). Please be sure to access YearbookVote.com during this time or your superlative votes will not be counted.
If there are any problems, please contact Mrs. McCarthy by email at marthalee.mccarthy@fcstn.net
Thanks,
Yearbook Adviser